Boatyard Services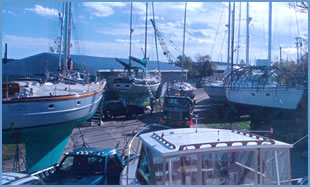 All boats and owners are unique. We at OCEAN PURSUITS boatyard will work with you to achieve exactly what you need for your boat.
OCEAN PURSUITS' waterfront location allows us to offer a complete line of services that include haul & launch, rigging, repairs and complete systems service. Our full-time, year-round crew is a complement of craftsmen that includes skilled joiners, painters, varnishers, licensed electronic technicians and certified marine refrigeration and mechanical mechanics.
If you are interested in having a complete system upgrade, new wiring, a cosmetic refit, AWL Grip paint, a coat of varnish, or if you are just looking for a safe, honest yard to store your boat, then we are the yard for you.
Spring Commissioning and Fall Decommissioning
Maintenance and Care Programs — long- and short-term programs
Restorations and Refits — projects range from new construction to structural refits
Electronics — from radar to satellite communications
Engines, Mechanical and Plumbing — new engines, cabin heaters, air conditioners, refrigeration, etc.
Painting and Varnishing — AWL Grip, Epifanes and enamel
Carpentry — from teak decks to interior joinery
Fiberglass Work — hull repairs to radar arches
Rigging — sails, running and standing rigging
Detailing — from buff-and-wax to color restoration