Boat Storage
OCEAN PURSUITS' four-acre property offfers both inside and outside storage.
Our property is located on the northern corner of Rockland Harbor, sheltered behind the Rockland Breakwater. It is a very protected site weatherwise and it is also completely secured with a fence and security system.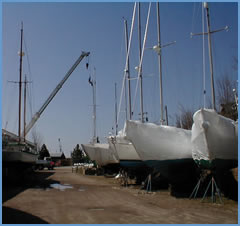 We currently store upward of 75 boats, ranging in size from 19 ft. to 52 ft. Our hydrolic trailer hauls boats out at our ramp.
Our storage package includes haul, wash, storage, stands, blocks and Spring launch.
Contact us for information on Fall decommissioning and Spring commissioning.
Also available: inside mast storage, shrink-wrapping.